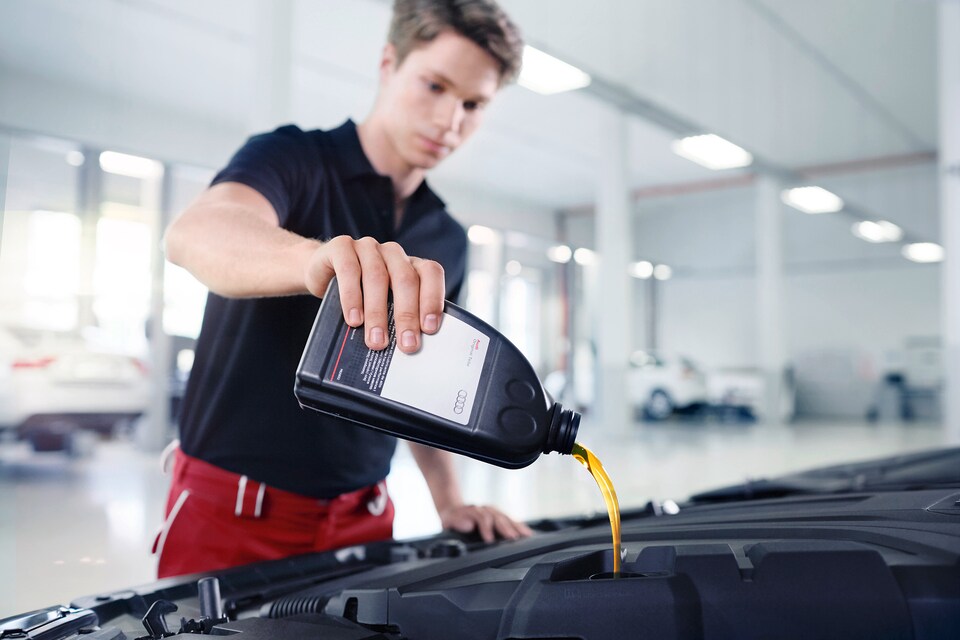 Audi Warrington's Oil Change Service
When it is time to change the oil in your Audi, you have a wide range of options.
You can change it yourself. You can take it to a nationally-branded oil change franchise. You can take it to a locally-owned garage.
Or you can trust your Audi to Audi Warrington, your Audi dealer for Warrington.
Although you can find a variety of opinions on the topic, we think there are some excellent reasons to bring your Audi to us for your maintenance services, including oil changes.
The Audi Pledge of Trust
As one of the most iconic and highly trusted automotive brands in the world, Audi sets very high standards for its dealers.
Only an Audi dealer can ensure that an Audi-trained technician will work on your vehicle. We not only know your vehicle better than anyone else, but we also have all of the specialized tools your service may require.
Audi Parts Matter
When you replace your oil filter with a generic or national chain's brand, are you sure you are getting Audi-level quality?
Filtration matters. Keeping the oil clean is your engine's main line of support against wear and premature failure. And oil only stays clean if it runs through a high-quality filter.
Your Audi is made to run for a very long time. The best way to cooperate with it is to use Audi's recommended parts.
Only Audi dealers can supply Audi parts. And only Audi and Audi-authorized suppliers can guarantee Audi quality and standards.
Multi-Point Inspections
If your Audi needs any additional service or a part replaced, our complimentary multi-point inspection will discover it.
Once we have completed your inspection, your Service Consultant will review the results with you.
Value for Value
Finally, we pledge to do all we can to provide value for all of our services, including oil changes.
We at Audi Warrington understand that it is important to save money during these times. Please contact us or check our website for service specials and coupons.
Schedule Service
* Indicates a required field