New Audi e-tron® EVs and Plug-In Hybrid Cars for Sale in Warrington, PA
Audi Warrington has all you need to know about the New Audi Electric and Hybrid Vehicles. Compare Models. Shop Inventory!
Compare the New Audi Hybrid & Electric Vehicle Lineup at Audi Warrington
The Audi brand is popular among
Doylestown area
drivers, and beyond, for many reasons. Whether you're looking for a luxurious SUV or a peppy sedan, the Audi lineup is filled with lavish and powerful SUVs and cars for every
Horsham area
driver. Now the Audi lineup is even better, thanks to a roster of new 
e-tron® battery vehicles and Q5 PHEV (plug in hybrid electric vehicle) SUVs. 
As part of the plan to make the world a better place, Audi is striving to create a lineup of fuel-efficient vehicles and are well on their way with a long list of electric and hybrid models.
The new Q5 PHEV - also referred to as the Q5 e - is a variant of the popular Audi Q5 SUV, featuring a plug-in hybrid powertrain. The system combines a gasoline engine with an electric motor and a large battery pack, allowing for electric-only driving for a limited range and then switching to hybrid mode for longer trips. This provides efficiency, performance, and versatility. The plug-in capability also means that the Q5 PHEV can be charged from an external power source, further reducing emissions and fuel consumption.
The Audi e-tron® is a line of BEVs (battery electric vehicles). Unlike the Q5 e, e-trons are 100% battery-powered. As a result, it's even more eco-friendly 
by producing zero tailpipe emissions and reducing dependence on fossil fuels. New 
Audi e-trons include stylish designs, high-end features and technology, smooth and quiet driving experience, and impressive ranges.
What are the Audi Hybrid and Electric Models?
Here is the new Audi Hybrid and Electric Model Lineup:
2023 Audi Q5 e
Starting MSRP: $57,400*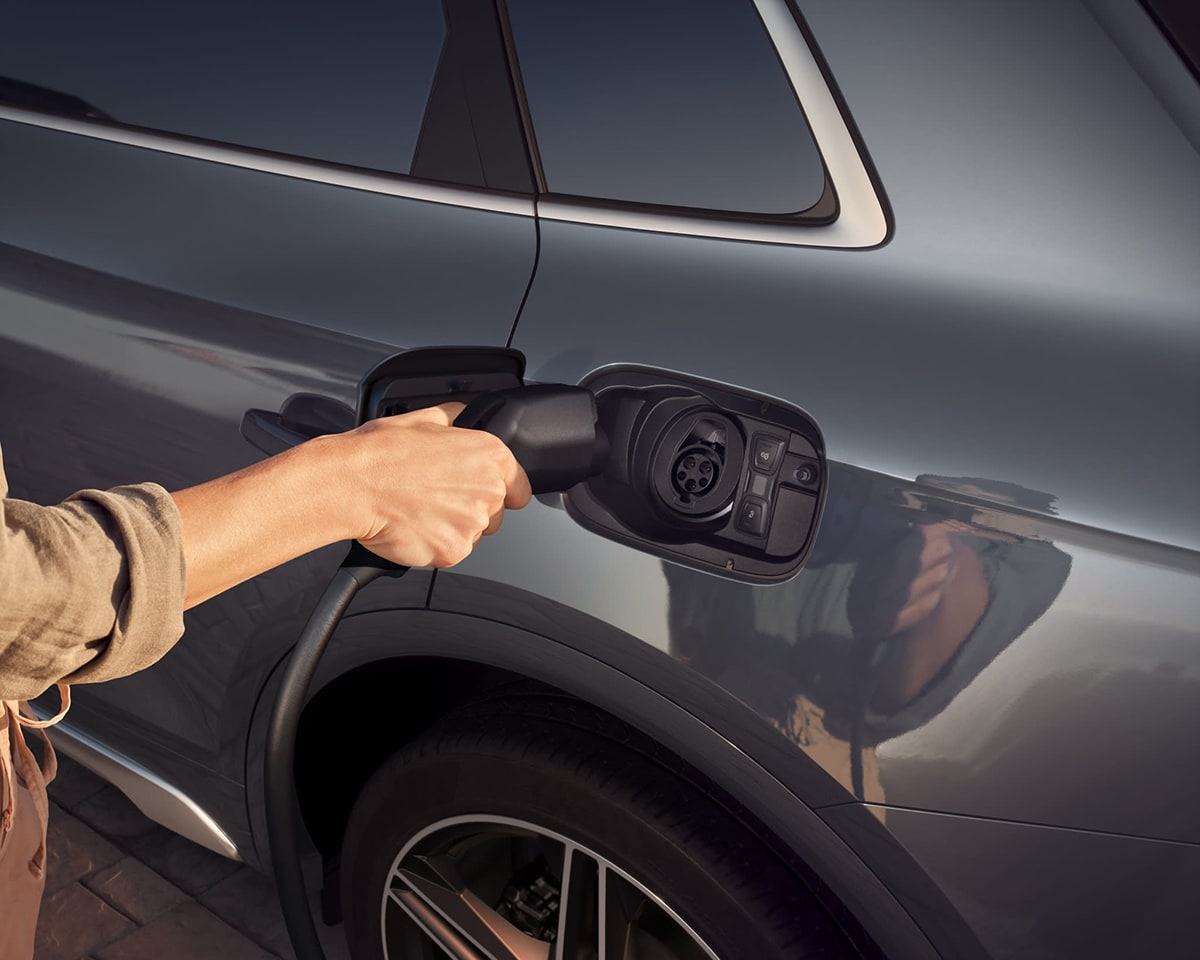 The
Audi Q5
is a spacious, powerful, and luxurious compact SUV that many of our Warrington area drivers enjoy. The Audi Q5 e takes the Q5 to the next level with its plug-in hybrid powertrain. This energy-efficient version takes the 2.0-liter four-cylinder engine and combines it with an electric motor to allow for up to 362-horsepower, with 369 pounds-feet of torque, and can go from 0-60 mph in five seconds**. The Q5 e has a battery range of approximately 23 miles, and gets up to 60 combined MPGe (Miles Per Gallon of Gasoline-Equivalent).
2023 Audi Q4 e-tron®
Starting MSRP: $49,800*
The Audi Q4 e-tron® debuted in 2022 to much fanfare. This compact SUV can produce up to 112 MPGe in the city and 94 MPGe on the highway. The battery ranges up to 265 miles. Its engine delivers up to 295 HP and can go from 0-60 mph in as little as 5.8 seconds**.
The Audi Q4 Sportback e-tron® offers a sportier, coupe-like, exterior design. With a lower, curvy, roofline, the Sportback version of the Q4 e-tron® includes less cargo capacity. Starting at $58,200 MSRP*, its battery ranges up to 242 miles.
2024 Audi Q8 e-tron®
Starting MSRP: $74,400*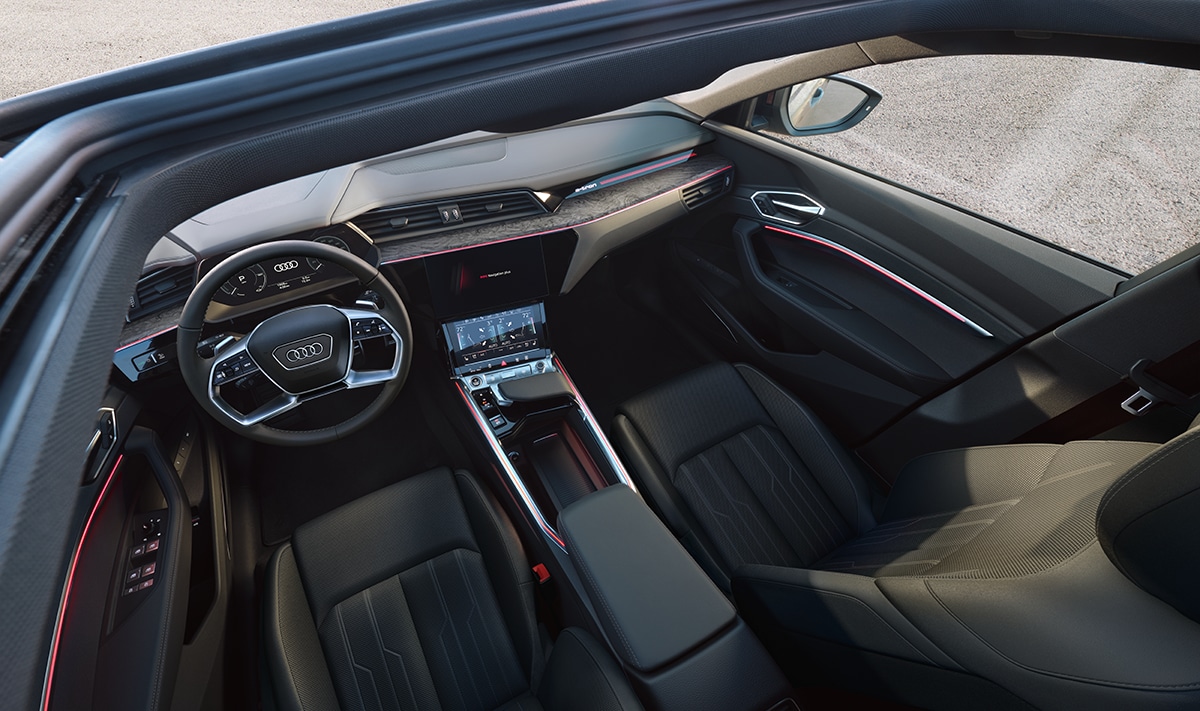 The latest nameplate of the new Audi electric roster, the Audi Q8 e-tron® is actually a revamped version of the original e-tron® SUV that debuted in 2019.
The midsize SUV can produce up to 402-horsepower and 489 pounds-feet of torque. It is larger than the Q4 e-tron®, with nearly four additional cubic-feet of rear cargo space. Drivers will even find the quattro® all-wheel drive system, a top speed of up to 124 mph**, and up to 4,000-pounds of towing power. The battery ranges up to 285 miles, which about 50 miles longer than the original e-tron®. It can charge from 10% to 80% in as little as 31 minutes. The Q8 e-tron® gets up to 78 combined MPGe.
The Q8 e-tron Sportback®, which starts at $77,800 MSRP*, provides the same engine performance as its sibling. Featuring a streamlined body and sloping roofline, its battery can range up to 300 miles.
2023 Audi e-tron® S
Starting MSRP: $88,300*
The e-tron® also has an S family member. The S, which stands for sublime, is the sportier version of its model namesake (i.e. Q5 and SQ5). Powered by three electric motors, the e-tron® S can produce up to 469-horsepower and 717 pounds-feet of torque. It can go from 0-60 mph in as little as 4.3 seconds**, with a top speed of 130 mph**.
The e-tron® S Sportback starts at $90,800 MSRP*. Like its similarly powered sibling, the e-tron® S Sportback's one drawback is less fuel efficiency than the other e-tron® models: 75 Combined MPGe, and 212 miles of battery range.
2023 Audi e-tron® GT
Starting MSRP: $104,900*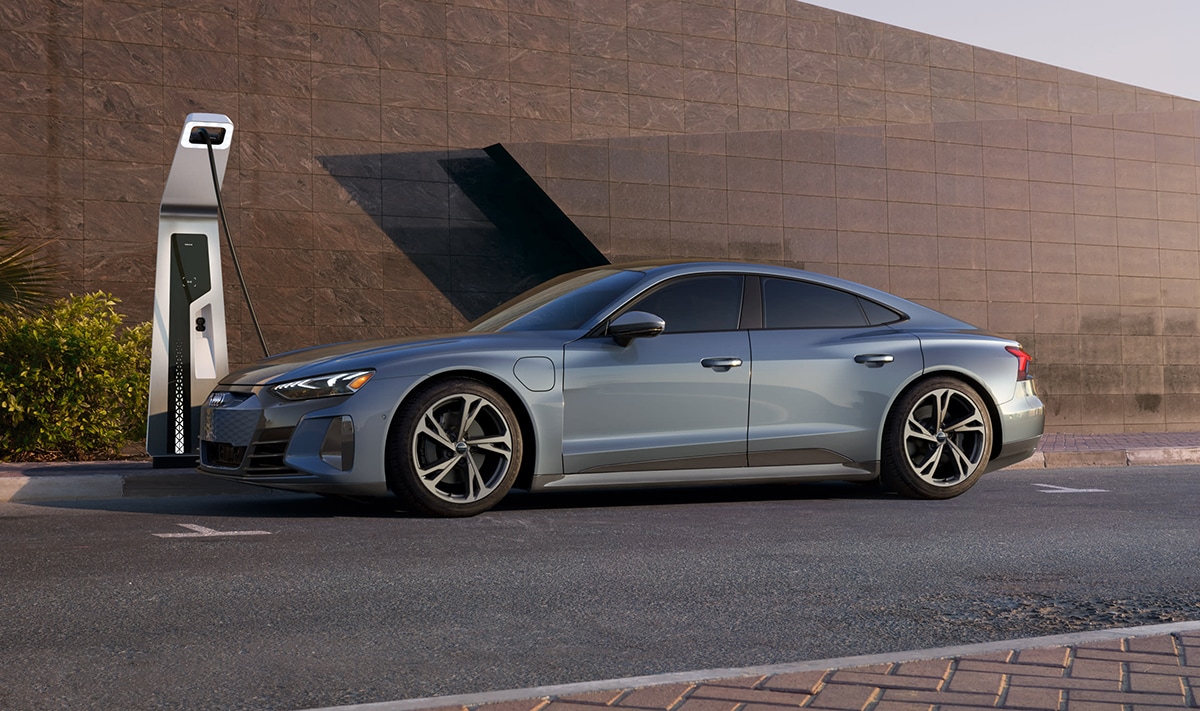 The Audi e-tron® GT is a quick sports car that mixes the high-performance of a typical sportscar with the economical pure electric power you crave. Dual synchronous electric motors power the 93 kWh Li-ion battery to deliver up to 522-horsepower, a top speed of 152 mph**, and 0-60 mph acceleration in just under four seconds**. The battery ranges up to 238 miles and can get up to a combined 82 MPGe.
Audi's most powerful battery electric vehicle, the RS e-tron® GT can generate up to 637-horsepower and go from 0-60 mph in just over three seconds, with a top speed of 155 mph**. It gets up to 81 Combined MPGe, and battery charging from 5-80% can be performed in as few as 22.5 minutes. The RS e-tron® GT's MSRP starts at $143,900*.
Commonly Asked Audi EV Questions
Is the Audi e-tron safe?
Yes! In 2019, the e-tron was the first all-electric car to earn a Top Safety Pick by the Insurance Institute for Highway Safety (IIHS). Since then, several Audi e-tron models have received the IIHS's highest honor, the Top Safety Pick+: the 2022-23 Audi e-tron, 2022-23 e-tron Sportback, 2022-23 Q4 e-tron, and 2022-23 Q4 e-tron Sportback. Criteria is based on crash test performance and crash avoidance systems.
Does an Audi hybrid self charge?
Since the Audi Q5 e is a PHEV, it will occasionally need to be plugged in to fully recharge its battery. However, the Q5 e's hybrid system allows for battery self-charging via regenerative braking, which converts the energy from braking into electricity and uses it to charge the battery. Additionally, the gasoline engine can also contribute to charging the battery, providing a self-sustaining cycle of energy.
Does Audi offer free EV charging?
Electrify America, a national chain of public charging stations for electric vehicles, offers Audi e-tron
®
 owners 250kWh of free charging (2023 Audi e-tron
®
 GT/Audi RS e-tron
®
 GT models come with 3 years of unlimited charging). There are several Electrify America locations close to our Audi Dealership in Warrington, such as:
Brixmor Ivy Ridge - 7162 Ridge Ave, Philadelphia, PA 19128.
Simon-Philadelphia Premium Outlets - 18 W Lightcap Rd, Pottstown, PA 19464.
PREIT Willow Grove Park - 2500 W. Moreland Dr, Willow Grove, PA 19090.
Simon King of Prussia Mall - 160 N. Gulph Road, Suite 2700, King of Prussia, PA 19406.
Buy a New Audi EV online, or Contact Us today
Are you ready to charge into one of our
new Audi electric and hybrid vehicles for sale
? If so, click into the Sloane at Home's "Build My Deal" digital retailing tool. This fast and secure tool streamlines the buying process by enabling you to obtain accurate finance and payment information without having to step inside the dealership.
However, if you would like to first see our EVs in person, we invite you to visit us in Warrington, PA. Our team would be proud to answer your questions and take you for a test drive. You can also schedule a test drive below. We will get back to you shortly, and look forward to serving you.
*MSRP is not the sales price and does not include taxes, tags, title. adjusted market value, dealer installed equipment (if applicable), and dealer documentary fee. **Always obey speed and traffic laws.
How can we help?
* Indicates a required field