New Audi Q5 and New Audi Q7 | Which is Better?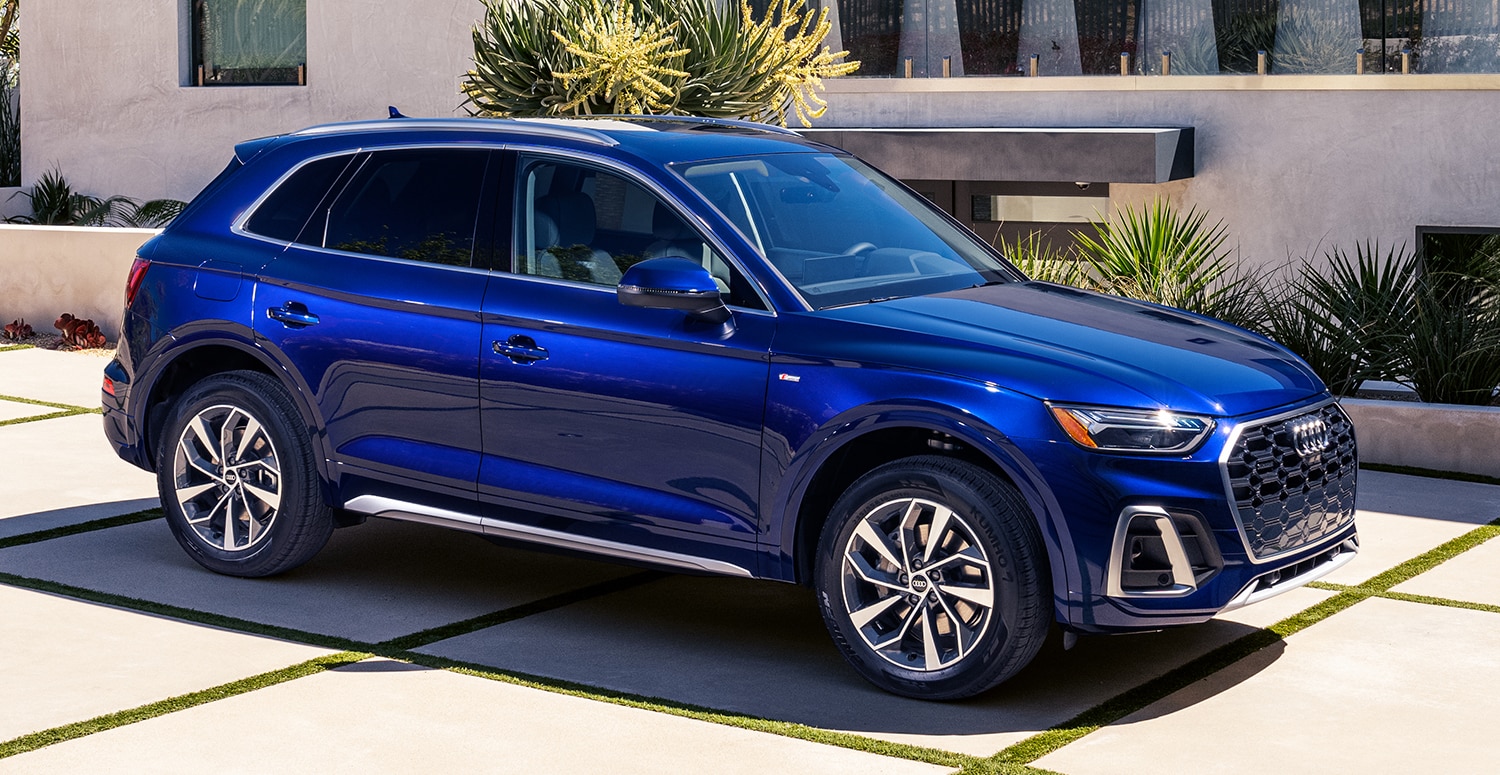 2023 Audi Q5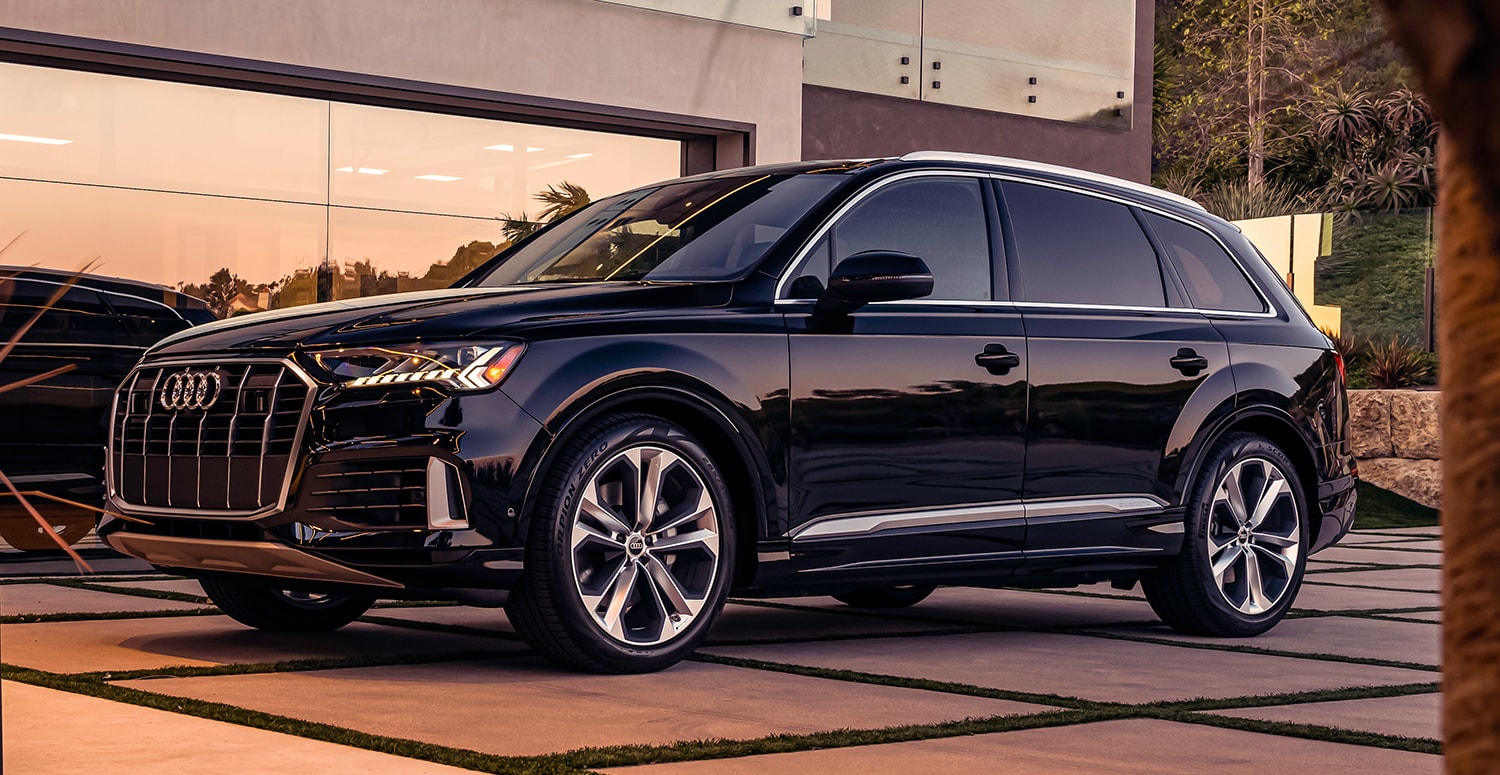 2023 Audi Q7
Trying to find the right new Luxury SUV for you and your family. You've come to the right place. Check out our 2023 Audi Q5 and Q7 comparison here! 
The Audi Q5 and Audi Q7 are popular models due to their impressive powertrains, lavish interiors, and versatile cabins. But
which one is better?
Let's find out.
Audi Q5 vs. Audi Q7: Price
Which new Audi SUV is more expensive? Being the smaller of the two, the Q5 contains the less expensive overall price. The disparity changes the higher in trim levels you go, along and with any additional accessories or packages. At each of their base trim levels and engine options, the Q7's MSRP is $15,000 more. At their highest trims and engines, the Q7 costs an additional $7,400.
Audi Q5 vs. Audi Q7: Side-By-Side
| | | |
| --- | --- | --- |
| | 2023 Audi Q5 | 2023 Audi Q7 |
| Starting Price | $44,200 MSRP* | $59,200 MSRP* |
| Engine | 2.0L turbocharged 4-cylinder | 3.0L turbocharged V6 |
| Horsepower | 201 HP | 261 HP (4-cylinder), 335 HP (V6) |
| Fuel Economy | 23 mpg city/29 mpg highway** | 19 mpg city/25 mpg highway |
| Available As Plug-In Hybrid | Yes | No |
| Dimensions | 184.3 inches long | 202.7 inches long |
| Passengers | 5 | 7 |
| Cargo Space | 54.1 cubic feet | 69.6 cubic feet |
| Towing Capacity | 4,400 pounds | 4,400 pounds (4-cylinder), 7,700 pounds (V6) |
| NHTSA Safety Ratings*** | 5 out of 5 Stars | 5 out of 5 Stars |
*Manufacturer's Suggested Retail Price for vehicle as shown does not necessarily represent the dealer's actual sale price and does not include destination & handling fee of $995, tax, title, license, registration and adjusted market value. Dealer sets actual price. **Does not include the 2023 Audi Q5 plug-in-hybrid option. ***National Highway Traffic Safety Administration Crash Test Results.
Audi Q5 vs. Audi Q7: Size 
If you're looking for an SUV that can handle your entire crew, you'll want to choose the larger Audi Q7. The Audi Q7 comes with three rows and up to seven seats, while the Audi Q5 contains two rows and up to five seats. Both models can also be rearranged when needed for a good amount of cargo space. The Audi Q7, as the larger of the two, offers more space for your items. 
Audi Q5 vs. Audi Q7: Reliability
The 2023 Audi Q5 has a predicted reliability score of 69 out of 100 from J.D. Power, which is considered about average. According to
J.D. Power's website
, the score "measures the level of defects, malfunctions and design flaws experienced by vehicle owners." Regardless, the Q5 has received a number of awards for its reliability, including being named one of the most reliable luxury SUVs by Consumer Reports. As of May 2023, the 2023 Q5 has been recalled once by the National Highway Traffic Safety Administration.
The 2023 Q7 has an even better J.D. Power predicted reliability score of 71. It was named one of the most reliable luxury SUVs by U.S. News & World Report. As of May 2023, the 2023 Q7 has not been recalled.
2023 Audi Q5 Interior Images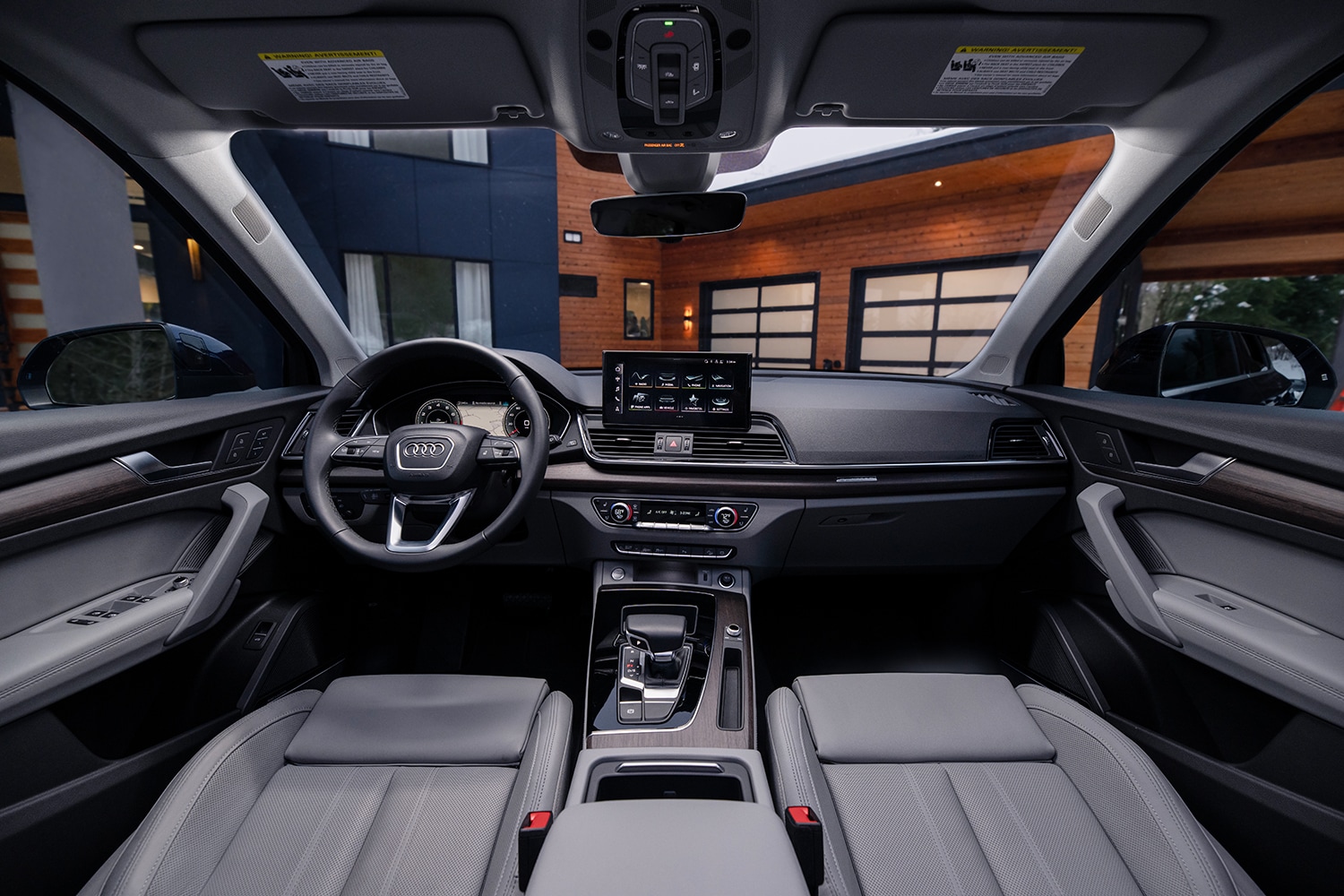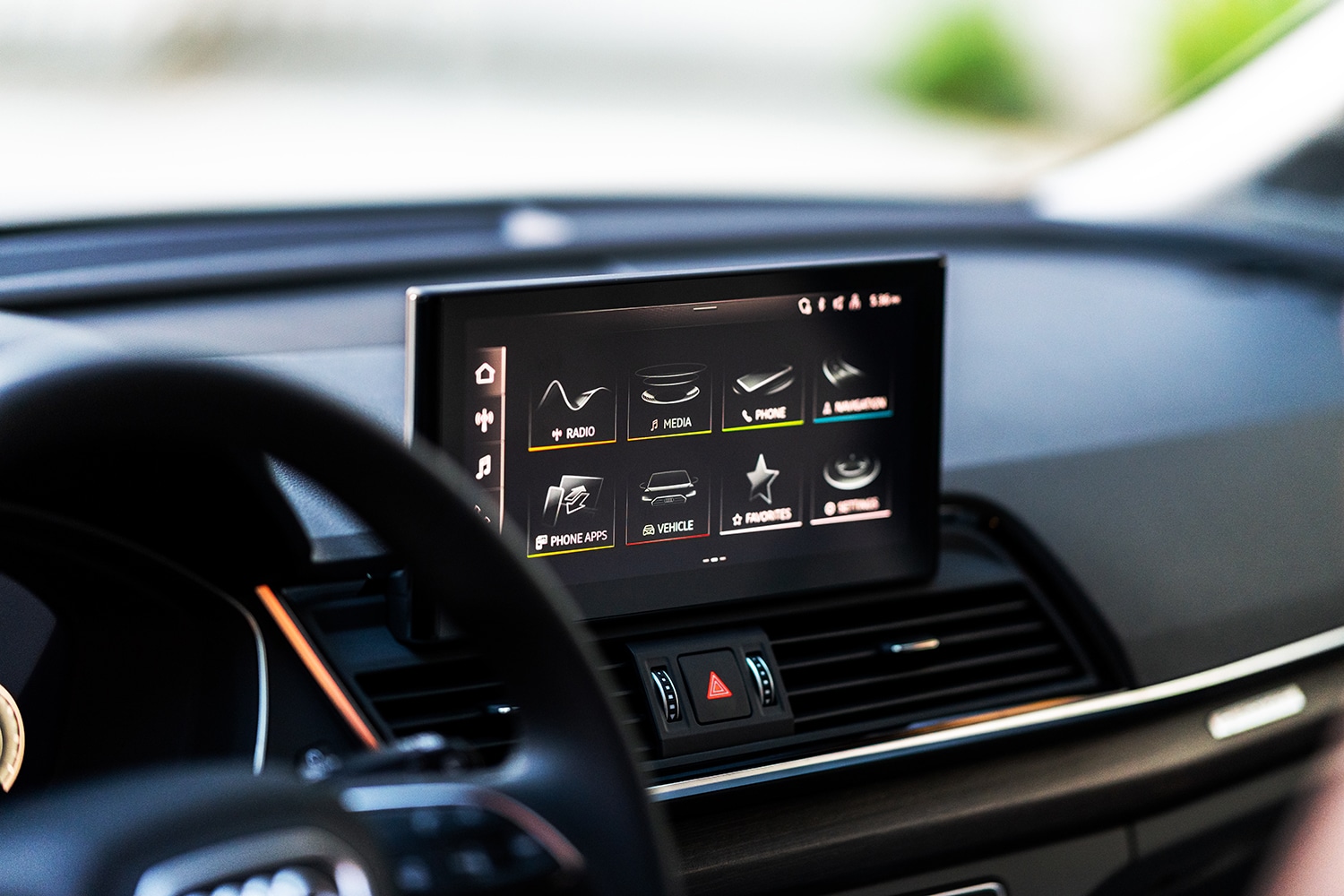 2023 Audi Q7 Interior Images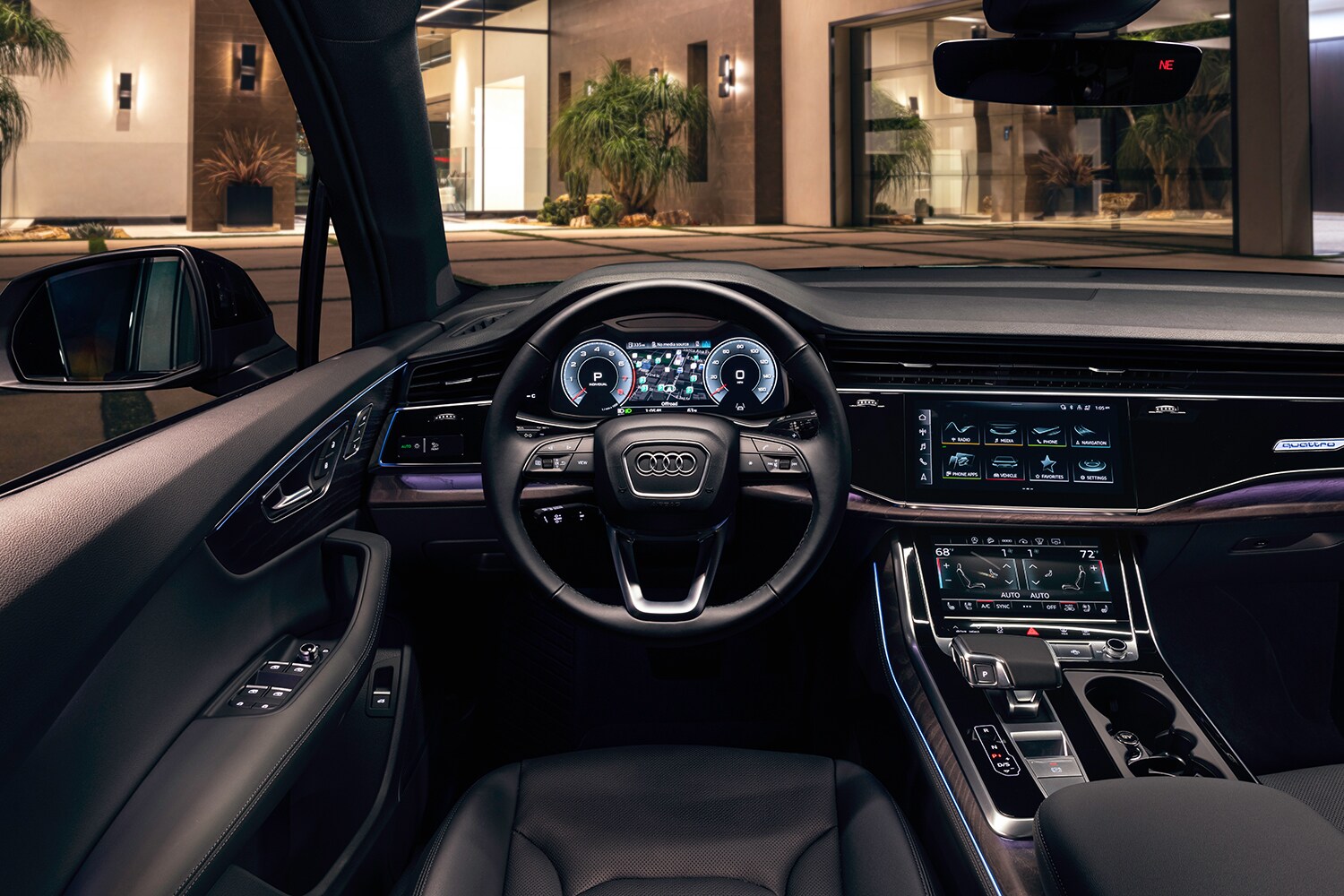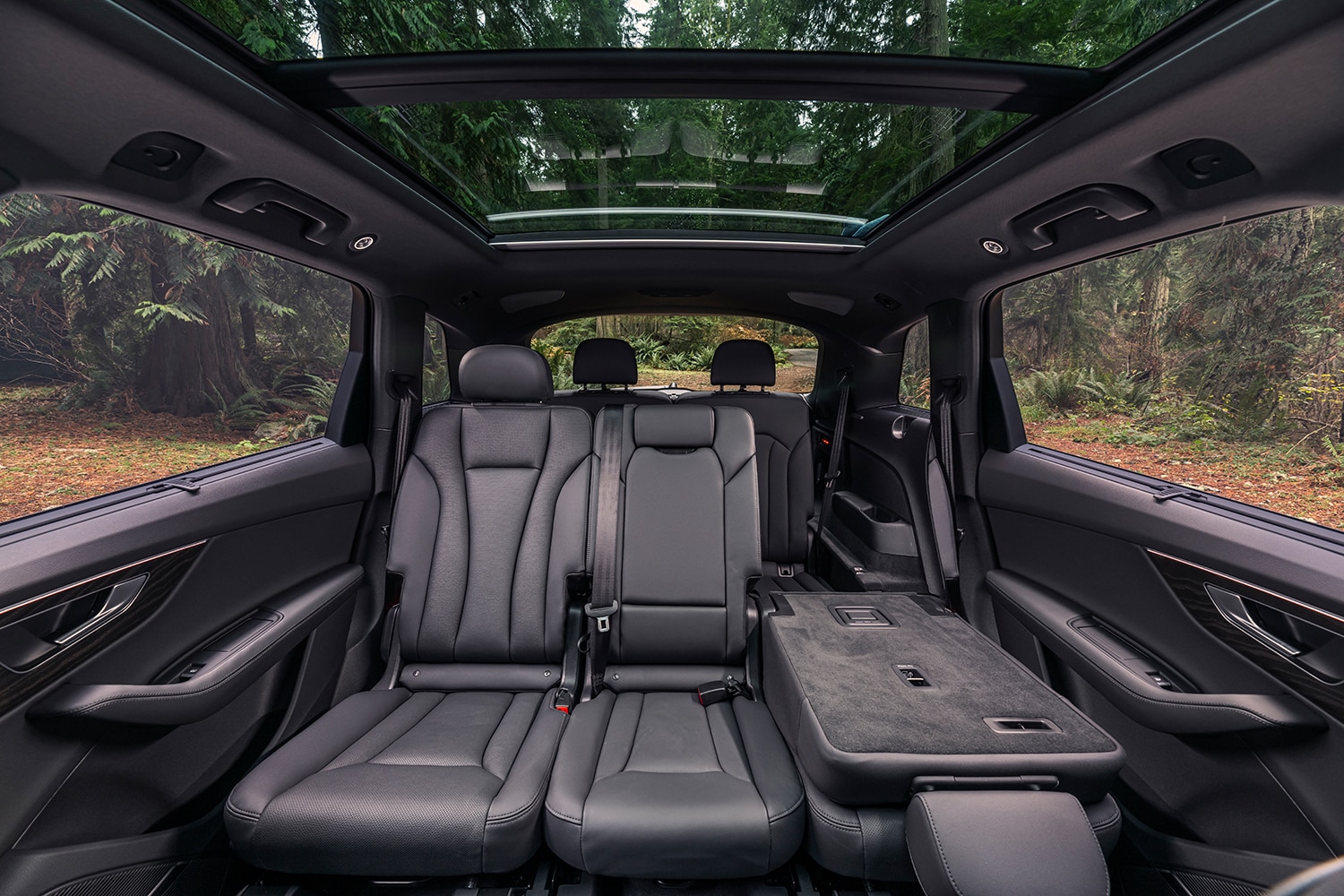 Audi Q5 vs. Audi Q7: Features
The technology, safety features, and creature comforts are similar in each comparable trim level of the new Audi Q5 and Audi Q7. Some of these standard or available features include: Heads-Up Display, LED lighting, power liftgate, Bang & Olufsen premium audio system, heated and powered front seats, a navigation system, and much more. Even with all of these similarities, there are a few distinct differences, though. For example, the Audi Q5 includes a floating display screen while the Audi Q7 comes with two display screens that are angled to the driver.
Audi Q5 vs. Audi Q7: Performance
When it comes to performance, both the 2023 Audi Q5 and 2023 Audi Q7 won't leave you wanting more. The Q5's standard four-cylinder engine delivers 201 horsepower. However, its plug-in hybrid variant, the Q5 e, delivers 362 HP and gets you from 0-60 mph in 5.0 seconds. The Q5 e also gets up to 60 combined MPGe (Miles Per Gallon of Gasoline-Equivalent) and has an approximate 23-mile battery range. The Q7's four-cylinder engine earns up to 261 HP and its V6 delivers 335 HP. Both models come standard with the legendary Audi quattro® all-wheel drive system.
Which is Better: The 2023 Audi Q5 or Q7?
Circling back to the question posed at the open - which new Audi SUV is better? The answer lies in how much you weigh their differences.
When it comes to reliability, the Q7 edges the Q5. The Q7 also offers more space and a more powerful engine. However, the Q5 is more affordable and has better fuel economy.
Think about these factors, and which ones matter the most to you and your family. Regardless of which one you select, we at Audi Warrington are confident you'll love either one. We encourage you to visit our Audi dealership in Warrington, PA, and try out these luxury SUVs for yourself. Our team would be happy to show you around, and answer any questions. We have plenty of new Q5s and Q7s in stock. You can also contact us below, and schedule a test drive.
How can we help?
* Indicates a required field